Caritas 'Sweat it' and 'Live it' need your participation!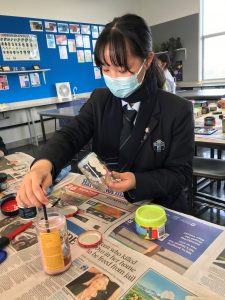 Do you recall this year, Caritas and Enviroschools are joining forces to complete the Caritas challenges throughout the year?
Well, while the maintenance of the butterfly garden is taken care of, we need help with recycling and upcycling jam jars to painted vases so they can be offered as Christmas gifts to volunteers working for Totara Hospice, Manurewa – as a token of appreciation for their challenging work with people of the community. Often, the daily work they complete requires them to be pushed to their limits physically and emotionally, so we remember how they can 'sweat it'.
Please bring empty and clean Craig's jam jars so we can upcycle them to room CU7.
We still need 100 more jars to reach our target of 200 jars.
In Term 3, we also would like to ensure that no waste is done with the clothes we wear. The Kaitiakitanga Prefects are running a Clothes drive, a new initiative where students are able to bring clothes they no longer wear and exchange them for other clothes that someone else would have brought in. What a fun and sustainable way to 'Live it' – feel what it's like to be in someone else's clothes but to create a new look in a sustainable manner!!!  We invite the school community to bring good quality clothes, for teenagers and adults, into school and drop them in allocated boxes by the girls' toilets in the auditorium during Week 10 of Term 2 so that they can swap them for other items in Term 3 (date to be confirmed through the School notices in Term 3).
By promoting the re-use of clothing, we aim to educate our school community about the unnecessary use of cheap and underaged labour to produce new clothes and to reduce clothing waste reaching landfill due to people throwing items because they just want to change clothes as they look out of date. Let's help Planet Earth by recycling and helping others who may actually need clothing because they can't afford it!