The New Zealand Curriculum sets out a clear vision that all our young people will be lifelong learners who are confident, creative, connected, and actively involved. Teachers at Sancta Maria College have worked hard to develop and integrate a local curriculum that is unique and responsive to the priorities, preferences, and issues of the people of our school community.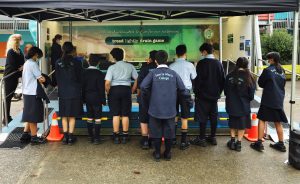 This term the curriculum in Years 7 and 8 has been enriched through several EOTC opportunities that have provided students with 'hands on' and authentic learning experiences. Our Year 7's have been unpacking the virtue of 'Kaitiakitanga' through their learning in Science and have been visited by the Tread Lightly Caravan who were able to show the students how drains worked; this learning linked to a visit from Wai Care who taught the students about water quality. All of this learning will be incredibly useful as we head into Term 3 and we have our annual planting day at the stream.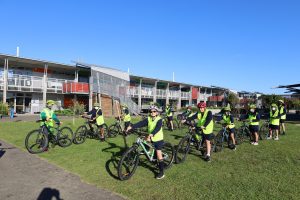 Our lucky Year 7 students have also been enjoying some fantastic bike skills workshops. Students of all riding abilities have received expert advice and training and it's been a real pleasure to see the levels of confidence growing. 
Our Year 8 Social Studies students have been learning about Pre-European Maori life, are set to enjoy visits to the Auckland Maritime Museum in the final week of term where they learn about Polynesian voyagers and how they made their way to Aotearoa.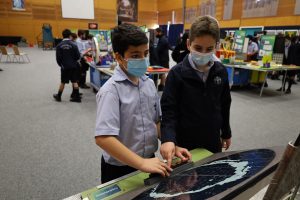 Students in Years 7-10 have also been treated to a visit from the Science Roadshow. The Science Roadshow allows attendees the opportunity to explore various science and technology concepts by 'touch and feel'.
It provides a unique, informal learning opportunity that:
excites and enthuses visitors;

 

nurtures curiosity and discovery;

 

improves motivation and attitude;

 

adds to teacher knowledge;

 

supports numeracy and literacy;

 

encourages social interaction and co-operative learning;

 

provides memorable real life contextual elements and exemplars.

 
It was fantastic to visit alongside the students and see their excitement and enthusiasm for Science!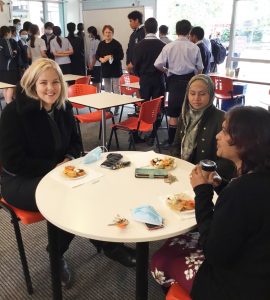 Our Year 9 and 10 students have been busy presenting speeches in English on a range of topics that reflect our school's values and virtues. I am looking forward to hearing the top speakers in each class present when we have our inter-class finals. 
The Year 9 Food Technology classes have catered and hosted high tea for staff twice this term; this is always a highlight for students and staff alike.  
At Year 10 one of the highlights of the term has been Careers Day held in week 8. A huge thank you to Mrs Rogers and the careers team for all of the work that went into making this day possible. Students were able to hear from a range of industry and learning specialists; this information will help students think about future career pathways and inform option choices for Year 11 and beyond!  
A massive congratulations must go to all students and staff for their hard work! I look forward to seeing all of the fantastic learning that will take place in Term 3. 
God Bless,
Courtenay Kilpatrick
Deputy Principal (Year 7-10 Curriculum)