Aotearoa Caritas Challenge: Sing Out 4 Justice Song-writing Competition
This saw five of our talented musicians gain First Prize and a Highly Commended Award within two categories this year.  Our first two winners for the whole of New Zealand in the Yr 7 – 10 Category were Yena Wang & Audrey Basilio's song 'It's all about Faith'.  Milly Corboy, Kristine Guerrero and Leilani Davies were our second, Highly Commended winners (within the Yr 11 – 13 Category) with their song 'The Lord is my Light'. Congratulations to all five girls for your efforts juggling school work, rehearsals and performances.   Click on the video below to listen to both winning songs:
Classics at 12 Concert
Our very talented Big Band, Symphonia and Combo performers all enjoyed a public performance held at the Uxbridge Arts Centre, Howick.  It is an opportunity for our musicians to gain much needed performance practice in an hour-long session in front of admiring classical music fans.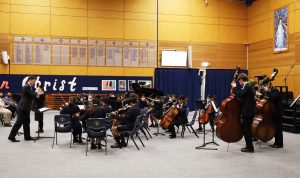 Warm up Concert
Held in our school Auditorium, the Big Band, Concert Band, Symphonia, Festival Orchestra, Guitar & Cello Ensembles, Senior Choir and Festival Choir all performed in front our whanau and friends in preparation for the upcoming KBB Festival in August.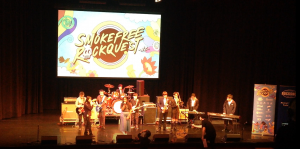 Smoke Free Rock Quest – Manukau Heats
This annual event and is a platform for high school students all across New Zealand to play live on a professionally-equipped stage, expressing their talent and creatively all while developing their musicianship and performance skills.  This year Sancta Maria College entered two bands – Cesura (James Dunne, Sean Van Tiel, Luke Presnall and Lawrence Stewart) and The Jazz Ducks (Gabriel Heruela, Tomaz Zheng, Daniel Butcher, Aaron Chan, Oscar Chen, Rocky Liu, Joshua Orange and Lukas Siu).
Tauranga Jazz Festival
The National Youth Jazz Competition commences Tauranga's week-long Jazz Festival, showcasing the very best emerging jazz players from secondary schools across New Zealand.  This year we entered two groups who did our school proud during the whole-day event – they are to be commended for their practice, performance and perseverance.  They also gave up part of their weekend to join in the competition!
The final results were a bronze award for our younger combo, The Tenukis, whilst the senior combo, The Street Bugs, earned a silver award.
We congratulate all our performance groups that entered this year, well done and keep up the good musical form!
What's next?
A frenetic August awaits us with two visits to KBB Festival, our solo singers and bands competing in Stand Up Stand Out and the Big Band and combos return to the Auckland Secondary Schools' Jazz Competition, all taking place between the 7- 13 August – so watch this space!