Kia ora Tatou, Parents, Caregivers and Whānau
Although we have seen an easing of restrictions around COVID-19, I know this term has seen a spike in several students and families experiencing isolation because of testing positive or being a household contact.  It has also been a challenge for the College in regard to staffing and winter illness is starting to set in for everyone.  I know that we are all trying to navigate our way through the current climate and we're all doing this the best way we can.  Keep it up, everyone!
Rostered days home
Staff absence, due to COVID-19, have spiked throughout last week.  These come during a time when other illnesses have meant staff absence is already relatively high, and unfortunately mean that we cannot adequately staff classes. 
The Board of Trustees have reviewed our COVID-19 situation and staffing levels, and as a result of this, the decision has been made to implement the daily rostering home of Year levels from Monday 4 July, starting with Year 9.
The rostering days for students to learn from home will be as follows and will last until the end of Term 2:
YEAR 10 – Tuesday, 5 July
YEAR 13 – Wednesday, 6 July
YEAR 12 – Thursday, 7 July
Learning from home means that work will be assigned to students to complete during the day they are rostered home. This will either be emailed directly to students, or will be set on our Learning Management System, Schoology.
School Board Parent Election 2022
The College will be undertaking a parent election for five School Board vacancies in September.  This process will start with the calling for and issuing of nomination papers to our parent/caregiver/whānau community by Friday, 15 July 2022.   All election information will be emailed to within a month.  Nominations will close on Wednesday, 3 August 2022 at noon. There will be an opportunity to meet the candidates on Wednesday, 31 August 2022.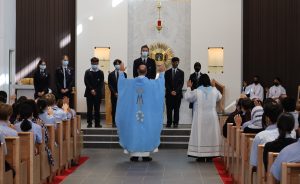 Feast of The Visitation
We celebrated our Feast Day with our first full school mass held in St Luke's Church.  Fr Craig led our mass along with Fr Sherwin, from St Mark's Parish.  During the Mass, our school had seven Eucharistic Ministers commissioned – they were Adriana Anselm, Joaquin Fallar, Patricia Callista Prom, Louis Magallanes, Benedict Loulie-Wijtenburg, Kayleigh Pieters and Andrei Mamaradlo.  We congratulate each of these students and their families.   We were joined by a number of special guests from our faith community for this joyful occasion and give special thanks to Fr Craig for leading our Mass. Click this link for further detail.
Welcoming Matariki In Prayer:  Matariki means 'the eyes of God'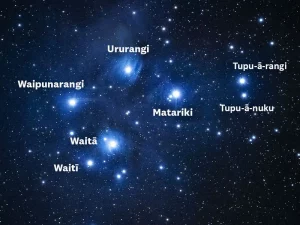 The school gathered in aroha (love) to celebrate and pray over the wonder of this time.
"Ka inoi tatou – let us pray.  E te Atua, God of cycles and patterns of the universe and all living things whose ways we only begin to comprehend, open our hearts to the wonder of the natural world, to your incarnation throughout creation, and to your presence with and in us now."
Our Matariki Liturgy and prayers highlighted our sense of place in the cosmos.  Students participated in our liturgy, and we sang waiata.  Matariki is a cluster of many stars.  There are nine stars which stand out more than the others.  We lit nine candles to remember the goodness and wonder of the creation in which we live and these were brought forward by students and each spoken to by another student.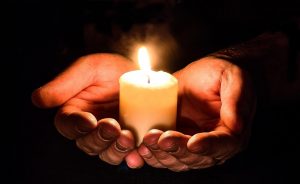 The nine candles represented:
Christ, the great light and the light of the world.
The Holy Spirit, the gracious one.
Wisdom that teaches moderation, prudence, justice and courage.
Humility, that leads us down paths of patience, understanding and opens our hearts to the ways and grace of people who understand the ways of the natural world.
Reconciliation that heals what is broken. Her friends are kindness and compassion.
The shape of our heart – it is right and just to give thanks to God.
Stewardship, the work of kaitiakitanga, guardianship, preserving ways and protecting integrity.
The Earth itself. Offering food for the living through kindness and grace.
The Seasons of the Earth. A time for everything, a season for every purpose under heaven, a season to plant and harvest, a season to die.  God has made everything in harmony with the divine.  Wisdom is the constant companion.
Across the school
Our Junior school have experienced a rich education outside the classroom in addition to the strong curriculum learning – they have enjoyed bicycle training, hands-on science, history visits, presentations of their speeches, food preparation and hosting of a high tea for staff, as well as looking into the future during Career's Week.  Wellbeing and Pastoral care continues to be a focus for the school as we enter the winter season with high levels of COVID-19 and flu infections affecting our school community.  As such, we continue to stress the importance of looking after yourselves and there has been some fantastic events throughout Term 2 to support this.  Click this link for more detail.
Our Senior school continues to show their leadership as well as their focus on academic excellence – an inaugural information evening was hosted late May for our top scholars and their whanāu and was very well received. On 31 May, the College hosted its inaugural Academic Excellence Information Evening for our top scholars and their whānau.  The evening was hosted by Academic Prefects, Reuben Cooper and Stella Cranwell.  Both Stella, and our Head Prefect, Ethan Rogacion, spoke about their experiences of sitting NCEA Scholarship subjects in Year 12 and the academic advantage this has given them as they prepare for tertiary studies.  Of particular note, was Stella sharing her journey about the importance of making wellbeing as an integral part of being a top scholar.  Members of the Senior Leadership Team, and Heads of Department from most Scholarship subjects, attended the evening to meet with parents.  If you would like further information, please contact Mrs Sullivan via email c.sullivan@sanctamaria.school.nz
In addition, the Sports Department hosted a 'Mental Skills' workshop and our Feast Day Mass was managed by our senior leaders, including the commissioning of seven Eucharistic ministers.  Click this link for more detail.
NCEA changes
The process of NCEA change and refresh continues to be a focus for our staff and professional development, as we navigate the number of changes within each curriculum subject.  You can keep up to date by clicking the following link https://ncea.education.govt.nz/what-ncea-change-programme
Musical Highlights
Our musicians have been kept busy enjoying 'warm-up' concerts for musical performers and choirs.
Aotearoa Caritas Challenge – Sing Out 4 Justice song writing Competition saw five of our talented musicians gain a WIN and Highly Commended within two categories this year.  Yena Wang and Audrey Basilio's song 'It's About Faith' won in their Year 7-10 category and Molly Corboy, Kristine Guerrero & Leilani Davies gained a Highly Commended in their Year 11-13 category.  Click this link for more details and listen to their winning songs.
Congratulations, girls, you have done incredibly well, we are very proud!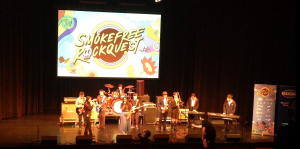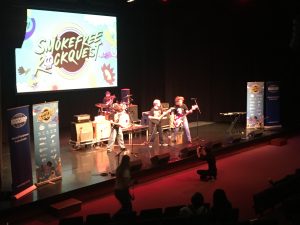 The Smoke Free RockQuest was recently held.  SMC entered two bands – Cesura and The Jazz Ducks.
Our students also enjoyed performing at Uxbirdge Arts Centre during 'Classics at 12' and the students proudly represented us at the Tauranga Jazz Festival.
A very big Thank You to the whole of the Music Department and Mr Gibbs for their tireless support and hard work in preparation for all the events – including the lead up and management of this year's KBB Festival which is next month.
Congratulations
Mr Ben Bacon has been appointed Deputy Principal, Pastoral Care, Wellbeing & Cultural Diversity and Inclusion.  Mr Bacon has been a member of staff since 2015.  Formerly, he was Head of Department Health and Physical Education, and has been in a leadership role on senior leadership for the past two years.  Mr Bacon brings a breadth of knowledge to the Senior Leadership Team.
Welcome
Mrs Michaela Telfer has recently joined the Library staff as Library Assistant.
Mr Mark Mack is an experienced teacher of Physics and joins us at the start of Term 3.  Mr Mack comes to us from Ormiston Senior College.
Mrs Anna Burgess joins us at the start of Term 3.  Mrs Burgess will be teaching in the Social Sciences Department and joins us from Elim Christian College.
With Blessings,
Louise Moore.
Principal