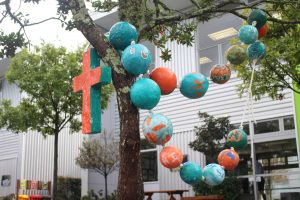 Marian Month
May is one of the busiest months for the Special Character Team at our school.  We started May by remembering with staff and students of the importance of Mary in our lives and the importance of praying the rosary – Rosary beads were given to each staff and student to help them in their prayer life.  This is one way of providing opportunities for staff and students to be active in their prayer life.
To help with this objective of prayer, the team encouraged staff and students to pray the rosary every Friday lunch time in the month of May – Mrs Anne Du Burgess helped by leading these prayers.  The students and staff grew their understanding of the life of Jesus through the different mysteries of the rosary with a good number of students and staff gathering in the Francis Block to pray.
The staff also led the school in praying the Angelus during the Magnum Silentium at 12 noon.  This also allowed staff and students to recall the "YES" of Mary to be the Mother of Jesus.
Year 11 Retreat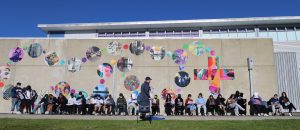 On 11 May, Year 11 also enjoyed their Retreat.  The theme of the retreat was "I AM LOVED AND SO I MUST LOVE".  The students enjoyed different activities throughout the day to understand their importance and also the importance of God and the people around them.  They were also pushed to their limits to see how they could share the love that they have received to others.
Special Character Week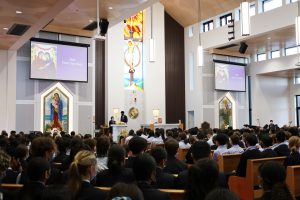 Our Special Character Week capped off the month as the last week in May was filled with different activities.  There was a day where:
students brought everything they needed for a day in school without using a bag
they had a Kahoot in their homeroom
we celebrated the Feast day through a mass
we enjoyed a talent quest
there was a Caritas Challenge to show their different skills and learn different ways of helping out people in need
the students enjoyed a MUFTI day to help raise funds for the people of Ukraine.
The Caritas Challenge went well, with the help of the Special Character team, Year 13 Prefects and the guidance of Dr. Wilda Laux, who took on the role as the Head of Caritas for the school.  The student-participants enjoyed several challenging activities that made them partially feel and see the experiences of people who may be struggling, all over the world.  They were also given time to reflect and see what the Catholic Church, through Caritas, is doing to help out these people in response to the Catholic Social Teachings.